Dortmund, 21st November 2022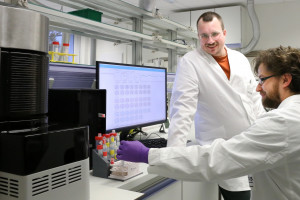 Konrad Krug is a mathematician and he never wanted to work for an insurance company. Since September 2022, he has been a trainee in the Communications unit at the Leibniz Association's office. Konrad's main field of work is the magazine 'leibniz'. The 32-year-old writes articles, prepares contributions for social media and researches pictures. He also contributes to other internal and external communication activities.
I am at ISAS because…

I was just in the area anyway :-). Just kidding, I'm always happy to have the opportunity to broaden my knowledge. Besides, I want to see as many Leibnizians in action as possible during my traineeship, so that I can experience the world of science from more than just my desk.

In the lab…

I learned, above all, to appreciate the world of the very, very tiny again! It's great to see the complexity that microscopes can bring to light – and how kind and welcoming the researchers are who operate them.

I would have never thought that…

I would wear a lab coat again in my life – the last time was probably in biology or chemistry class in high school. And that must have been about 15 years ago.

About my visit…

I'm going to tell everyone I can – especially my grandma, who I'm going to see tomorrow!
In times of pandemic, species extinction & climate crisis, communication between science & the public is more important than ever for Konrad. Why is he so enthusiastic about science communication? If you have a thirst for knowledge that is hard to quench, Konrad says, you will always find what you are looking for in science communication.
At ISAS, things continued outside the lab for Konrad after his visit to the Bioimaging research group. At AMBIOM – Analysis of Microscopic BIOMedical Images, the 32-year-old explored the challenges of analysing microscope images, & learned how Artificial intelligence can significantly improve the analysis of tumour cells.