Dortmund, 4th May 2023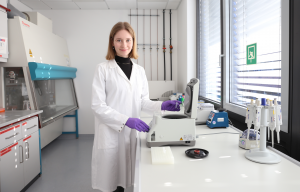 Joy Amrei Brummel (24) is studying Chemical Biology at TU Dortmund. Since her initiative application at ISAS in May 2022, she has been working as a student assistant in the Proteomics research group alongside her university studies. She is also writing her master's thesis at ISAS. To learn more about her work in the laboratory, the editorial team asked her to complete the following sentences.
As a student assistant in the Proteomics research group…

I help prepare samples for mass spectrometric analysis. I also assist my colleagues in the lab. For example, I take inventory of the samples in storage or prepare buffers, chemical solutions that maintain the stable pH value in a sample. It's great to apply the methods you learned about in theory during your studies in an intensive and practical manner here.

My bachelor thesis deals with…

the topic of thrombosis. More precisely, it's about the mass spectrometric analysis of proteins during the activation of blood platelets (thrombocytes). This causes the platelets to clump together and a blood clot (thrombus) to appear.

I am investigating…

how the proteins' activation in the thrombocytes changes under reduced oxygen levels compared to normal conditions. It is currently still unclear whether a reduced oxygen concentration activates the thrombocytes and thus leads to thrombosis, or whether it's the other way around and the activated thrombocytes trigger an oxygen deficiency in the blood.

To answer this question, the setting in which I conduct my experiments is important. To date, experiments with thrombocytes have mostly been conducted at an oxygen level of 21% - that of the air. In the blood vessels, however, the oxygen content is lower and can drop even further during activation. My work will help to better understand the effect of oxygen deficiency on thrombocytes under real-life conditions.

For my bachelor's thesis, I am conducting research at ISAS because…

I am interested in analytical chemistry in the context of health research. I was immediately fascinated by the idea of being able to do research on thrombocytes from human samples. I hope that my work can support the scientists at ISAS in identifying makers for an early thrombocyte reaction in patients – and thus ultimately reduce the risk of thrombosis.